Cookies on the Abercrombie & Kent website
We use cookies to help you get the most from our site. If you continue without changing your settings, we'll assume that you're happy to receive all cookies on our site. However, you can change your
cookie settings
at any time.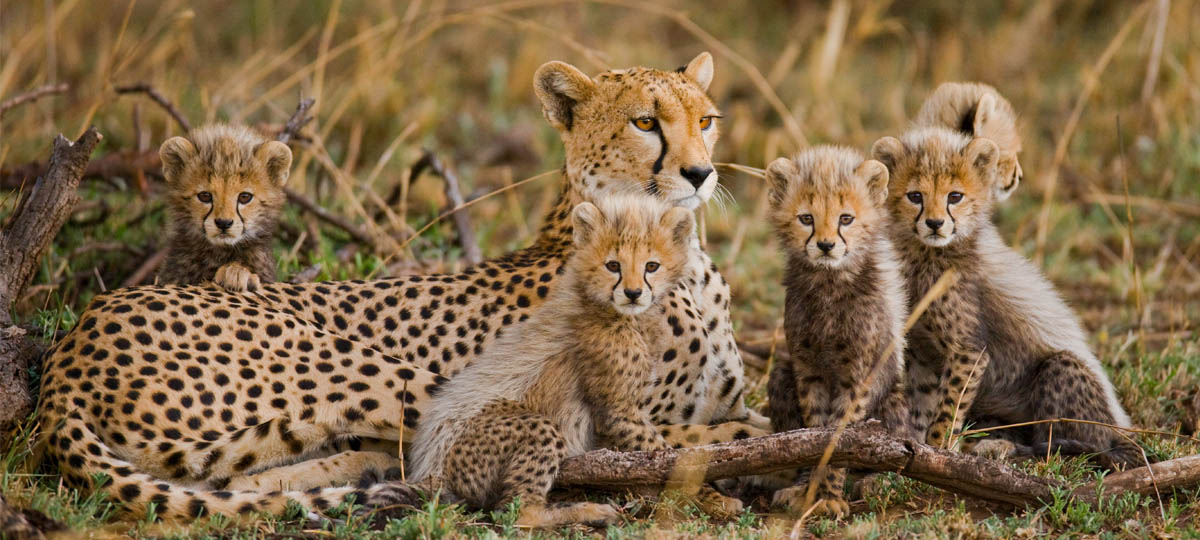 Latest News from A&K Tanzania
Aiyana's Splendid Isolation - 30 days away
For those guests that can work remotely, book them into the Aiyana in Pemba for a month. The cost is from USD 9,860 per suite which can accommodate 2 adults and 1 child below 12. They will receive:
• 30 nights on full board accommodation in a Superior Suite Beach Villa
• Domestic flights from Zanzibar to Pemba
• Return transfers from Pemba Airport
• Breakfast, lunch, afternoon tea and dinner
• Unlimited WIFI
• 50% off spa treatments and some activities & 30% off beverages
• Daily housekeeping
• COVID-19 testing every15 days and prior to check out
Contact us to take up this enticing, long-stay offer.
Tanzania Travel Dreams – volume 13
Another month comes to an end and we are already on volume 13 of our Tanzania Travel Dreams! Today we are talking about Chimpanzees.  
When thinking of Tanzania most guests, and their advisors, definitely don't think about chimpanzee tracking – however we believe it should be at the top of everyone's bucket list! On the western border of Tanzania lies Lake Tanganyika and along the shoreline run the Mahale Mountains. This scenery looks like something out of a film – huge rugged mountains that drop steeply down ending in white beaches and crystal-clear waters. A truly remote paradise that only the luckiest amongst us will ever get to visit.  
It is in these mountains that the chimpanzees roam. Tracking chimpanzees through the forest can be a difficult, but highly rewarding, task. The joy of chimpanzee tracking in the Mahale Mountains is that you will seldom come across another person and will have the experience to yourself. Watching the chimps run, feed, play and socialize in their natural habitat is truly inspiring and you will see why Jane Goodall loves them so much.  
There are a myriad of other activities available in the area for those afternoons when you are not in the forest, or you could just choose to dig into your book and enjoy the wonderful surroundings.  
To see our Mahale Mountains itinerary please click here and contact us to include this magical experience in your guests Tanzanian journey.   
Tanzania Travel Dreams – volume 12
Today we are all about learning on our Travel Dreams! The series that was created to inspire and educate you on all things Tanzanian so you are ready to rock and roll when your guests start planning their safaris.  
We understand that selling Africa, any part of it, is a hugely daunting task especially if you have never been. This is why we have created our Instant Experts – these handy little documents give you all the immediate facts and talking points that you need when discussing travel to East Africa with your clients.  
You can download the document here. 
 In here you will find an overview of the principal sights of the country, the best time to go, when the rainy season is and something a little extra special to offer your guests. There are also a range of suggested itineraries on the back which give you an idea of how many days your guests need for a safari and how the East Africa countries combine.  
If you ever have any questions, please don't hesitate to contact us for more information!   
Tanzania Travel Dreams – volume 11
It's unbelievable how time flies and we are already on volume 11 of out Tanzania Travel Dreams Series! Designed to give you the tools to learn about, and keep inspiring your guests, on all things Tanzanian.  
Today we may have more time on our hands than we are used to so we wanted to share our fantastic reading list with you – please click here to view the full list. 
 There are several fantastic suggestions on here, starting with some incredible life stories including that of our founder Geoffrey Kent, the celebrated film maker Alan Root and back to the story of Ernest Hemingway. Then there are a few fabulous fictions to keep you entertained including The Zanzibar Chest and Baking Cakes in Kigali.   
If you don't feel like having a read, we have also added a film list with our top favorites which are made of up documentary and fiction films – guaranteed to keep you entertained for hours.  
 One thing is for sure once your guests finish working through this list they will be itching to get back to East Africa and you will be there to create the perfect journey for them.  
Tanzania Travel Dreams – volume 10
Yes we are all dreaming about the next trip that we can head out on and this one is for all your guests who need a little romance once they are allowed out and about! Welcome to volume 10 of our Travel Dreams Series – where we give you the tools to learn, and be inspired, by travel in Tanzania.
Today we are talking romance! Tanzania is an utterly stunning country and perhaps more associated with adventure than romance. However, it is definitely a country perfect for a couple to escape too if they need to rekindle the fire.
Our Wild Romance in Tanzania itinerary will take your guests on soaring balloon safaris above the plains of the Serengeti, into the Ngorongoro Crater – a truly remarkable site and finally onto the island of Pemba. This little-known jewel has some of the best diving and snorkeling in the world and gives a feeling of total seclusion and escape.
Don't hesitate to contact us to create the ultimate romance itinerary for your guests.
Tanzania Travel Dreams – volume 9
Welcome to volume 9 of our Tanzania Travel Dreams Series! Today we are going to discuss the cross-border logistics in East Africa. This may not be specific to Tanzania but is essential to any Africa itinerary as most guest like to do more than one country when visiting this part of the world.
Our Sales Manager Patrick has done a wonderful webinar that covers all the logistics – please feel free to watch it here.
When connecting Kenya and Tanzania there are two main ways to cross the border:
You can drive across the border at Namanga. This is one of the most frequented border crossings as it is within easy driving distance of Amboseli National Park. It takes about two hours to get from the park to the Namanga border. From the Namanga border your guests can drive to Arusha (about another two hours) or carry on to Tarangire National Park or the Ngorongoro Crater (both are between four to five and a half hours from the border).
The second major connection is flying from the Serengeti or the Masai Mara up to Tarime. They would then get off the plane and they have to drive across the border into Kenya/Tanzania which takes about 45 minutes to an hour. They would then clear customs and immigration and board a second flight into the Mara/Serengeti. This may sound long and arduous, but it is one of the easiest ways to connect the two countries.
What you can be sure of it that at each border crossing there is an A&K representative who will help your guests with all the formalities and ensure that they feel comfortable and assisted throughout the transition.
To create a Kenya and Tanzania journey for your guests please contact us.
Tanzania Travel Dreams – volume 8
Welcome to volume 8 of our Tanzanian Travel Dreams series! Today we are going to talk about the wonderful, and rarely visited, Southern Tanzania. There are numerous parks that belong to this part of the country and most of them receive just 5% of the visitor numbers that the northern parks receive making them far more exclusive.
For an in-depth look into this region please feel free to watch our webinar.
Southern Tanzania consist of two main parks – Ruaha and the Selous Game Reserve. Ruaha is famed for having the largest herds of buffalo in Tanzania as well as some of the largest elephant herds. This park is best visited in the dry season, from July through to October and from mid-December through to March, when the grass is short, and water is scarce making wildlife spotting that much easier. This park attracts Tanzania's top guides as it is one of the last true wildernesses in the country.
The Selous Game Reserve has now been divided and the northern sector has now been transformed into Nyerere National Park. This park is almost at sea level and has a wonderful abundance of wildlife including the rare wild dog that have made a comeback from the brink of extinction. We love the fact that you can really get out of the vehicle in this park – you can explore the area on foot or in a boat on the wide Rifiji River. There is also the opportunity to try your hand at catching the famed tiger fish whilst here.
These two lesser visited parks make the perfect addition to any Tanzanian safari – weather your guests are here for the first time or they are seasoned safari goers.
Don't hesitate to contact us to include these unique places in your next proposal.
Tanzania Travel Dreams – volume 7
Welcome to volume 7 of our Tanzanian Travel Dreams series! As always we aim to inspire you and your guests with some fascinating insights into this wonderful country and give you some top tips to talk about once you guests are ready to travel again.
Today we are going to hear from Ricky Muro – our Sales & Reservations Manager in Tanzania who has been with A&K Tanzania for a staggering 21 years!
Tanzania has an incredible variety of activities on offer and during my 21 years with A&K I have been lucky enough to experience most of them. It's my role to assist our experienced team to design the amazing unique itineraries that our travel partners have come to expect from us. I always enjoy keeping active and in my personal time I always make sure I head to the gym or out on a long walk and this does not stop whilst I am on safari!
That's why I love offering the option to get our travellers out into the wild on a nature walk whilst on their Tanzanian adventure. This gives them the opportunity to stretch their legs and work off some of the incredible food that is on offer (safari goers often comment on how delicious the food is and how much they eat!). It allows them to see a totally different side of the Tanzanian bush – they take time to notice the smaller things such as dung beetles, snake skins and footprints. Another option is tracking lions and elephants and learning which plants can be used to brush one's teeth and which would cure an upset stomach. Your senses awaken, as you become part of nature and the wilderness becomes more real!
The Walking Fun in Tanzania itinerary offers plenty of opportunities to keep active while on safari in the country's prime game viewing areas. Enjoy a nature walk in Tarangire National Park, take in views of Lake Manyara National Park from a treetop walkway, and walk down into the Empakai Crater in the Ngorongoro Conservation Area where your guests get to spot zebra, gazelle and wildebeest on its forested slopes.
If you would like Rickey and her team to put together the perfect itinerary for your guests please don't hesitate to get in touch.
Tanzania Travel Dreams – volume 6
Over the last few weeks we published our Tanzanian Travel Dreams articles – a series of news snippets designed to inspire you and your guests for when we are all allowed to visit our favorite destination again, which of course has to be Tanzania! If you have missed any of our previous articles please take a look below and you will find them there.
Today we are talking about the Ngorongoro Crater – this is an area of outstanding natural beauty and one that many visitors are only allowed to drive through. Now, with Abercrombie & Kent's exclusive Insider Access activity, your guests will be able to walk through this magical area after their game drive in the crater and gain a deeper understanding of the people, and wildlife, that call it their home.
Their walk will begin at 16:30 in the afternoon and will take them through the stunning forest that blankets the rim of the crater eventually coming to the rim of this magnificent World Heritage Site. The views down across the plains are second to none. As well as learning about the plants and animals of the area a particular talking point will be how the modern world is affecting the traditions of the Masai – a fascinating subject that cannot be exhausted.
At the end of their walk your guests will be greeted by a classic East African Sundowner – a table laid with their favourite drinks and chairs to relax on whilst watching the sun slip below the far edge of the Ngorongoro Crater.
If you would like to include this incredible activity in you guests itinerary please contact us.
As always keep safe and keep sanitizing and we look forward to seeing you all in Tanzania soon!
Tanzania Travel Dreams – volume 5
Welcome to Tanzanian Travel Dreams volume five! Today we are going to talk about Climbing Kilimanjaro with A&K and tackle the biggest question – why choose A&K over other operators?
There are so many operators on the mountain why should your guests choose A&K? Ultimately it comes down to the way we treat our porters and guides. We are founding members of the Kilimanjaro Porters Assistance Project which goes beyond giving the porters full time, secure jobs throughout the year. It also gives them lessons on pensions and savings as well as providing English lessons so they can further their education.
In addition, we ensure that our porters only carry 44 lb (20 kg) as per the government regulations. Finally, they all have Wilderness First Responder training as well as being clothed in hiking uniform sourced from Nepal (they are very proud of being the best dressed team on the mountain!). The majority of other operators on the mountain do not offer any sort of assistance to their porters beyond hiring them for the climb so when times are tough (as they are now for everyone in the industry) these porters have nothing to fall back on.
It may surprise you to find out that A&K offers three different camping specifications for your guests – VIP, Deluxe and Lite. This enables us to offer our superior porters, guides and equipment at a variety of price points to suit your guest.
For more information on the routes and the three different camping specifications please feel free to watch our webinar.
If you have any questions or a guest that is interested in climbing Kilimanjaro please don't hesitate to get in touch.
Tanzania Travel Dreams – volume 4
Welcome to volume four of our Tanzanian Travel Dreams! Today we are going to talk about a little park in the northern circuit called Lake Manyara National Park. For those that are not familiar the northern circuit refers to the national parks in the north of the country i.e. Tarangire, Lake Manyara, Ngorongoro and Serengeti.
Lake Manyara is a wonderful little park and has a lot more to offer than just game dives (although those are pretty fantastic!). Firstly, the forest that surrounds the edge of the lake is simply magical and your guests wont experience scenery like this in the rest of the northern circuit. To fully explore the canopy, they need to try the Lake Manyara Tree Canopy Walkway which takes them up into the treetops and along the forest floor.
There is also the option of exploring the lake itself by canoe and see a variety of wildlife coming down to the shoreline to drink. This is a wonderful way of getting guests out of the vehicle and giving them the opportunity to do some light exercise. It also gives them a chance to slow down and take in the superb scenery; overall a very tranquil and calm experience.
This is a seasonal activity so please be sure to ask your A&K Tanzania consultant if it is available before talking to your guest about it.
To include some of the Lake Manyara activities in your guests Tanzania adventure please contact us.
Tanzania Travel Dreams – volume 3
Welcome to volume three of the Tanzanian Travel Dreams! Today we are going to learn about Western Tanzania. This is an area that receives very few visitors and has some unique wildlife and activities. This makes it perfect for your guests that want to get off the beaten track, away from the crowds and are looking for some adventure!
If you would like an in-depth overview of the national parks in Western Tanzania then please don't hesitate to watch our webinar.
There are three main national parks in Western Tanzania – Gombe Stream, Mahale Mountains and Katavi. Gombe Stream and the Mahale Mountains are located on the shores of Lake Tanganyika, the longest freshwater lake in the world. Both parks are home to numerous groups of habituated chimpanzees which guests can track through the forests.
Katavi National Park is located inland from the lake and is a relatively untouched wilderness paradise. The park is home to the largest herds of buffalo on the planet and has a wonderful array of habitats from open savannah, to woodland forests and seasonal lakes.
These parks receive about 5% of the visitor numbers that the Serengeti receives in a year – truly untouched utopias.
To include a Western Tanzania park in your guests next Tanzanian adventure please don't hesitate to contact us.
Tanzania Travel Dreams – volume 2
Welcome to volume two of our Tanzanian Travel Dreams! Today we are going to be talking about one of our new A&K Insider Access activities in Arusha. An Insider Access Activity is an activity exclusive to Abercrombie & Kent which is designed to enhance your guests experience in the country and make your proposal stand out from your competitors!
A&K Insider Access: The Arusha Entrepreneurial Tour
This tour allows your guests to explore the bustling city of Arusha and meet a few of its entrepreneurial residents. Most safari companies will offer visitors the opportunity to meet tribes such as the Masai however most guests never get to connect with the people in the cities – until now!
Your guests will meet ladies at the fruit and veg market, the secondhand clothes market and owners of the more upscale shops. They will hear their stories of how they have built up their businesses and expanded their offerings giving your guests a unique insight into the lives of the locals in this city. They will also have the chance to travel around the city by tuk tuk (rickshaw) a popular mode of travel that allows them to take in the smells and sounds of the streets around them. '
This tour is best done at the beginning of their tour before they set off on safari.
Please don't hesitate to contact us to include this in your guests next Tanzanian adventure.
Tanzania Travel Dreams – volume 1
During these difficult times we must find a silver lining somewhere so over the next few weeks we will be publishing our Tanzanian Travel Dreams – this is a collection of articles designed to inspire and educate you on all the wonderful things that Tanzania has to offer.
In our first episode we would like to give you the opportunity to learn more about the wonderful country of Tanzania by watching our Focus on Tanzania webinar. This webinar will give you a fantastic overview of the country including an overview of the National Parks, what your guests will be able to see in each of them, the drive times between them and a selection of properties ranging from 4* to 5* or above in each area.
Please don't hesitate to contact us if you would like any further information.
Keep safe, keep well and keep sanitizing!
---
© Abercrombie & Kent Ltd. All rights reserved
Translate this page
* Translation cannot be guaranteed. For more information in your language please contact us.