Cookies on the Abercrombie & Kent website
We use cookies to help you get the most from our site. If you continue without changing your settings, we'll assume that you're happy to receive all cookies on our site. However, you can change your
cookie settings
at any time.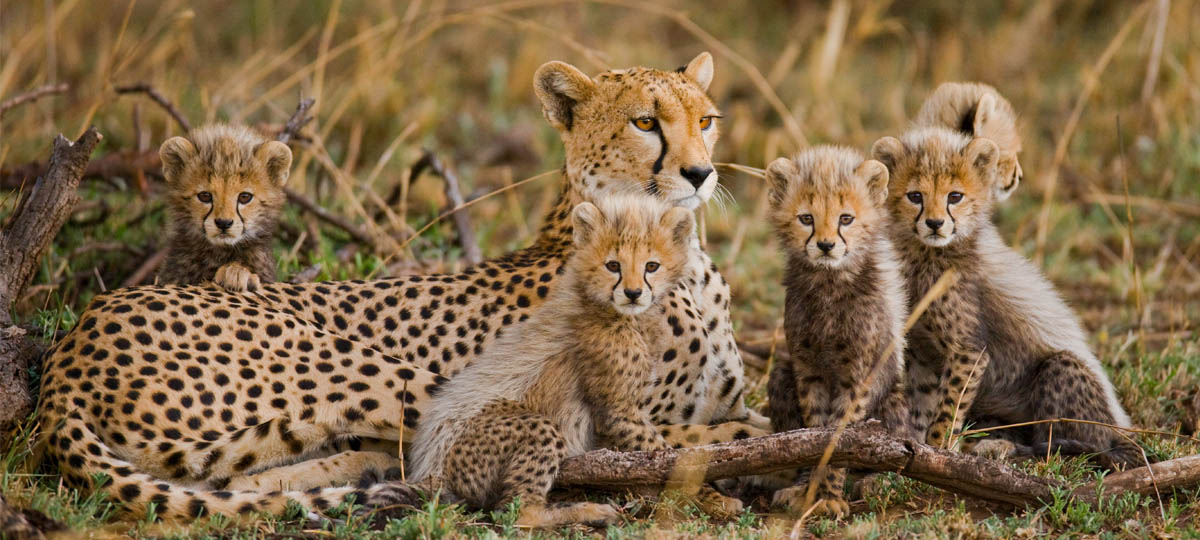 Latest News from A&K Tanzania
A Sprinkling of Holiday Inspiration
The holidays are a time for family, giving, generosity and love. You will find all of this on a Tanzania holiday adventure with the added bonus of escaping the worst of the cold weather. Here are our favorite family activities that will leave your guests with the memories of a lifetime…
Firstly, your guests will visit the K9 anti-poaching unit in Arusha and witness how man's best friend is putting his best paw forward to help save his friends in the wild. See how the dogs are trained and learn what the African Wildlife Foundation is doing to support this amazing cause. Then there is a game of hide and seek (spoiler alert – the dogs always win!!)
Guests will then make their way up towards the Ngorongoro Crater and stop in the village of Mto wa Mbu. Here it is time to see if the adults can remember how to ride a bicycle as your guests set off to explore with their guide. Along the way they will pass through the banana plantations and learn about the incredible range of uses that the Tanzanian's have for this plant (including making gin!) before ending up at a local lady's house where they will have lunch with her and her children. This is an incredible opportunity for a cultural exchange between the children and for many, it is their most powerful memory of their time in Tanzania.
Finally, it is time for your guests to head to the sea for a few days of relaxation and to soak up the sun before they return to colder climates. To escape the crowds, we will organize a private sand island lunch out in the ocean and your guests can spend the day snorkeling, playing and relaxing in this slice of paradise.
There is so much more on offer this holiday season in East Africa so please contact us to put together your guests' itinerary today.
New Visa Process at Kilimanjaro International Airport
The Tanzanian Government has with immediate effect changed the process of issuing visas at Kilimanjaro International Airport. The change involves guests queuing three times in order to receive the visa. To avoid this inconvenience, we strongly recommend that our guests apply for the E-Visa at https://eservices.immigration.go.tz/visa. The E-Visa approval process can take a few weeks so we encourage guests to apply well in advance of their arrival and hence only queue once at Kilimanjaro.
The Government has added extra booths at the visa counter and the bank in order to speed up the process. Unfortunately, all airside passes have been revoked and our representatives can no longer enter the customs and immigration area to meet guests. Kindly inform all your clients of these new developments.
Namiri Plains Re-opens
Five years after it first opened, Namiri Plains has been completely rebuilt giving it a stylish, updated look. The camp is located in Eastern Serengeti, in a region rich in big cats including large prides of lions and cheetahs. Namiri Plains features 10 tents including one family tent, decked out in brown, grey and white fittings including double/twin beds, low-hanging lamp shades, and an en-suite bathroom with an indoor shower. A sliding door leads out to a private veranda and an outdoor bathtub shrewdly hidden from view by a stretch canvas roof.
The communal area has a curated exhibit about the big cats found within the area and features spotting scopes to spot the wildlife that frequent the Ngare Nanyuki River that runs in front of the camp. The swimming pool and spa offer wonderful ways to unwind after a game drive or walking safari. Guests fly into Seronera airstrip which is a one-hour fifteen-minute drive to camp.
Air Tanzania to launch direct flights to Gatwick
Air Tanzania will soon launch direct flights to London's Gatwick Airport. The airline will fly from its hub in Dar es Salaam via Kilimanjaro to Gatwick every Wednesday, Friday and Sunday using the Boeing 787 Dreamliner. This is the airline's first route to Europe.
Nyepesi Kilimanjaro Climb
The Nyepesi Kilimanjaro Climb is a seven-day climb through the scenic Lemosho route. The climb begins at the Machame entrance gate and proceeds with steady walks for the next five days, over-nighting at Machame, Shira, Barranco and Barafu Camps before summiting Uhuru Peak at 19,325 feet on day six. Climbers will then descend to the Mweka Camp for the night before exiting through the Mweka gate from where they are transferred to their hotel. This is our lowest category of accommodation that we offer on the mountain but with the same fantastic A&K standards. Contact us for details.
Lake Natron Camp minimum stay policy
Lake Natron Camp is introducing a two night minimum stay policy, starting January 2020. This will give guests an opportunity to take part in the camp's adventures. All one-night bookings for 2020 will be honored.
Wayo Camps News
SERENGETI GREEN CAMP
Wayo Serengeti Green Camp has been stylishly updated. The camp has 10 double/twin luxury en-suite tents with two-tent family units also available. From December through to March, the camp will set up in Nabi Hill, within easy access of Gol Kopjes, Ndutu, Moro and Seronera before moving to Kogatende from July - November.
MANYARA GREEN CAMP
The newly-upgraded Wayo Manyara Green Camp is tucked away in a dry river bed in a quiet corner in southern Lake
Manyara National Park. The camp is made up of eight luxury square tents on raised platforms with green bush en-suite
bathrooms.
INSIDER ACCESS: Cultural Walks and Scenic Sundowners
The Ngorongoro Conservation Area that surrounds the Ngorongoro Crater is an area of outstanding natural beauty and one that many visitors are only allowed to drive through. Now, with Abercrombie & Kent's exclusive Insider Access activity, your guests will be able to walk through this magical area after their game drive in the crater and gain a deeper understanding of the people, and wildlife, that call it their home.
The walk will begin at four in the afternoon once your guests have completed their game drive in the caldera. The walk will take them through the Masai villages where they get to meet some of the inhabitants. Their guide will enlighten them on the Masai culture and a particular talking point will be how the modern world is affecting their ancient traditions and how this will change their culture and way of life. This is a truly authentic experience and your guests will be able to interact with the Masai as they go about their daily lives. After about an hour and a half they will come across an idyllic 'sundowner' spot which has been set up for them with chairs, side tables and a miniature bar that contains their favourite drinks. Your guests will then be able to sit and admire the beauty around them, sipping on a cold drink, and watch the sun go down before returning to their property for dinner.
Contact us to include a cultural walk to your client's itinerary.
Yellow Fever Vaccination Requirement
The Tanzania Government wishes to advise that yellow fever vaccination is mandatory to travelers arriving from yellow fever endemic countries.This requirement also applies to travelers subjected to long flight connections (transit) in yellow fever endemic countries for 12 hours or more.
The vaccination, which is given as a single dose, should be administered ten days before entering the mainland Tanzania as well as Zanzibar. Failure to produce a valid yellow fever vaccination certificate may lead to refusal of entry. You can get vaccinated upon arrival at a cost of USD 50. A government receipt shall be issued for the vaccination charges paid. For a list of endemic countries, click here.
Your 2019 East Africa Aspirational Travel Destinations
1) Rubondo Island National Park, Tanzania
Located on the south western shores of Lake Victoria. Rubondo Island National Park is Africa's largest island national park. Three quarters of the park comprises equatorial forest, home to chimpanzees, elephants and the rare sitatunga. A visit to Rubondo offers the intrepid traveler the opportunity to go on a chimp habituation adventure as well as a chance to venture into the unexplored corners of the island by canoe or boat. Catch-and-release fishing is a fun activity as is watching the dazzling array of birds and butterflies which call the island home. Accommodation at the island can only be at the Rubondo Island Camp.
2) Akagera National Park, Rwanda
Akagera National Park lies north east of Rwanda, a short three-hour drive from Kigali, the country's capital. The park comprises a remarkable number of habitats, from rolling hills of acacia bush to swamp-fringed lakes and thick forest. After many years of absence, lions were introduced back to the park in 2015 as were 20 eastern black rhino. Not to be missed is the magical sunset boat ride on Lake Ihema amid grunting hippos and basking crocodiles! Akagera is a great addition to a gorilla tracking adventure at Volcanoes National Park. Stay at the Ruzizi Tented Lodge or at the soon-to-open Magashi Camp.
3) Meru National Park, Kenya
Teeming with lion, elephant, giraffe and zebra among other species, Meru National Park is perhaps Kenya's most stunning yet underrated national park. Once a celebrated game park, made famous by Born Free, a book and film on lion lover George Adamson's life, Meru went under the radar due to massive poaching in the '80s. The park is back to its flourishing ways with a thriving rhino sanctuary and more diversity in animal species than any other park in Kenya. Your stay will be at the elegant Elsa's Kopje Lodge.
4) Rwenzori Mountains, Uganda
Popularly referred to as the Mountains of the Moon, Rwenzori is a rugged mountain range comprising over 25 peaks including Mt Margherita, Africa's third highest peak. With its rich and unusual flora comprising giant heathers and lobellas, as well as impressive glaciers and waterfalls, Rwenzori is one of Africa's most beautiful alpine destinations. Hiking the mountains is an experience like no other. As you ascend, you come across various biospheres each with its unique flora and fauna, and after 4,500 meters, the glacier adds a wondrous element to the atmosphere.
---
© Abercrombie & Kent Ltd. All rights reserved
Translate this page
* Translation cannot be guaranteed. For more information in your language please contact us.